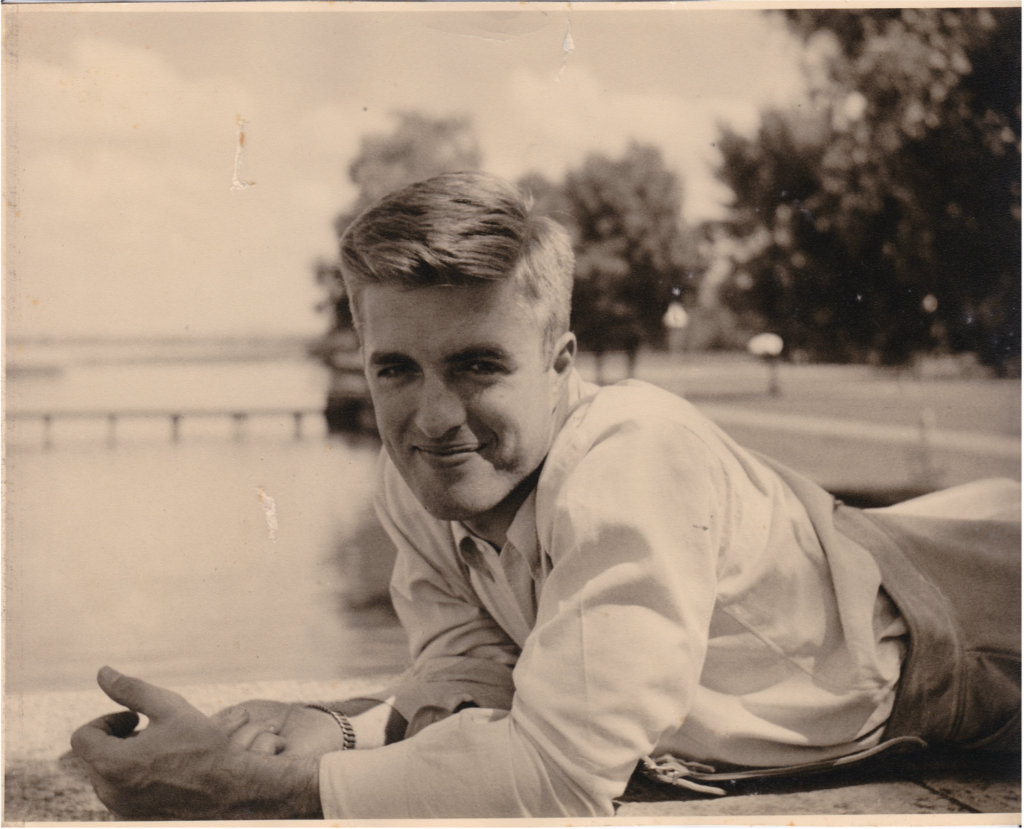 ---
NEW CASTLE — Edmund Charles Tarbell, II, born Boston, MA, July 11, 1926; died Rye, NH, May 8, 2022. He was the son of Edmund A. Tarbell and Marjorie B. Tarbell (Staley) of New Castle, and grandson of Edmund C. Tarbell, artist of Boston and New Castle, and of Daniel W. Badger, Mayor of Portsmouth, NH.
After graduation in 1944 from Governor Dummer Academy, where he played Varsity Hockey and ran Track, he served in the US Navy as Seaman 2nd Class. In 1950 he graduated with a degree in Economics from the University of New Hampshire, where he was Varsity Sailing, Track and a member of Theta Chi fraternity. He served in the CIA from 1951-1953 at its department in Munich, Germany, where defectors were received from behind the Iron Curtain. Upon his return he was VP of Badger Farms Creamery, a family-owned business, in Portsmouth for 15 years, then as stockbroker at Townsend, Dabney & Tyson in Boston, then entering real estate with Shanley Real Estate and then founded Edmund Tarbell Realtors.
Edmund treasured his friendships often writing, calling, flying around the world, driving for days or just around the corner to drop off a magazine to keep in touch. His charm and humor let him easily make friends across generations often sharing his sailing wisdom with young sailors. He belonged to many groups including, Portsmouth Athenæum, Kittery Point Yacht Club, Cruising Club of America, Ocean Cruising Club, Federal Fire Society, the Red Shirts of York ME, the Newcomen Society as well as his Sunday rowing club and until very recently his cardiac workout group.
Above all else Edmund was a sailor. He began his passion in his Alden O boat crossing the Portsmouth Harbor submarine nets during the war and then racing his International 210 "Dickie" against the competition at York Harbor. In 1960 he and his brother bought a 1928 Herreshoff Fisher's Island 31, "Kestrel". He won hundreds of trophies with her up and down the coast and competed in both the Bermuda and Halifax races and finished first in the 1963 Monhegan race. In 1989 he bought "Breakaway" a J-36 and dominated local and regional racing, and again sailed in the Monhegan, Halifax and Bermuda races numerous times. He was extremely competitive on the racecourse utilizing either tiny lines on light air days, "out until she luffs" or cigar smoke to check wind direction. If there was a race, he wanted to play and with his comfort at the helm was unafraid to push boundaries or occasionally port tack an entire racing fleet. Cruising the Maine Coast, transatlantic deliveries, solo east coast adventures, or racing every race he could find; he often recruited family and friends as crew with the lure of a lobster roll and libations. After retiring from his large boats, he could be seen tacking up the Piscataqua River in his Bullseye 12 1/2 with Tinker as fearless crew with the goal of being on the water at least one day a month in all seasons. Edmund never stopped racing (or living) until he crossed the finish line.
He leaves his longtime companion and excellent crew mate Sarah "Tinker" Newick of York ME; his children Edmund C. Tarbell, III, ("Mundy") of New Castle, William P. Tarbell of Dover, NH and Julia P. Tarbell and husband Andrius Keturakis of New Castle. Grandchildren include Victoria P. Tarbell of Torino, Italy, Marina and Julianna Tarbell of Rye, NH, Langdon Tarbell of Lee, NH, Josephine T. Toepfer of South Bend, IN and Thomas and Emeline Keturakis of New Castle. His great-grandchildren; Antibes and Estella Russo of Torino, Italy and Lawrence T. Toepfer of South Bend, IN. He was predeceased by his son Thomas Tarbell and his brother Daniel Tarbell.
In lieu of flowers, donations can be made to the Kittery Point Yacht Club, Thomas Tarbell Memorial Scholarship Fund for the sailing school.
A memorial service will be held at the New Castle Congregational church on May 26, 2022 at 2 pm. Burial will be in NH Veterans Cemetery, Boscawen, NH. The J. Verne Wood Funeral Home in Portsmouth is assisting the family with arrangements.